We invite you...
Between August 3 and 26, 2018, 11 bars and restaurants of the Historic Center of Old Havana will put to your consideration a tapa of their creation, always accompanied by a glass of Casillero del Diablo wine.
The participants who follow the Route will be able to taste exclusive preparations, designed to highlight the values of the Cuban culinary culture. At the same time they will be able to know and appreciate the richness that the gastronomy of that area of our capital has amassed in recent years.
The combination of a tapa and a glass of wine (in a volume not lower than 125 ml), will have a fixed price of $ 3.00 CUC. No extra amount will be charged for the service.
---
Those who participate and consume at least 8 tapas of the 11 in competition, will enter a raffle that offers 3 first prizes, 3 second prizes and 24 third.
---
Among these are boxes and bottles of Casillero del Diablo wine, tattoos and posters of contemporary Cuban designers courtesy of La Marca, cromantic dinners, cell phone recharges courtesy of Fonoma, t-shirts courtesy of Clandestina, event t-shirts pulóveres del evento, bcustom bags by Procle, among others.
Who can participate? All persons of legal age may participate without distinction or discrimination of any kind for reasons of sexual orientation or gender identity, racial, religious, cultural, political or economic nature or due to national or regional origin.
Instructions for participants
Go to any of the participating bars and restaurants (see map and list below) between 3:00 p.m. and 7:00 p.m., taste the tapa.
Request your participant's ballot, which will be available in each of the establishments.
Ask it to be stamped with the seal of each establishment every time after you taste the tapa.
After the tasting and after you receive the stamp, rate the tapa with a score between 1 and 5 according to its Presentation, Taste and Originality. (Being 5 the maximum)
Proceed to go to another establishment to taste another tapa and repeat the process as many times as you can.
When you finish, deposit the ballot in the mailboxes available in the establishments.
NOTE: By participating in this event, you agree with its Terms y conditions.
The purpose of the Route is to reward the best tapas in the three categories in contest: Presentation, Taste and Originality. The winners will be defined by ALAMESA based on the evaluations given by the participants on their ballots.
Bars and restaurants participating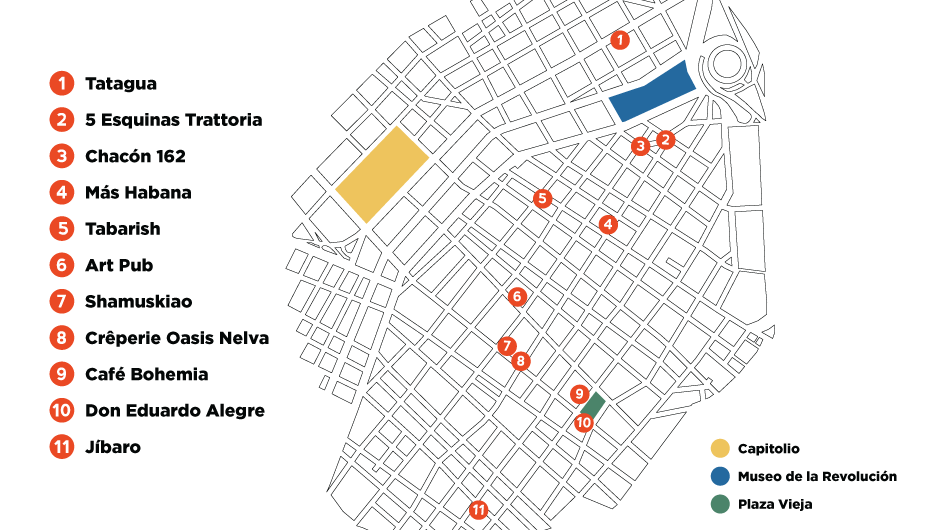 Participating tapas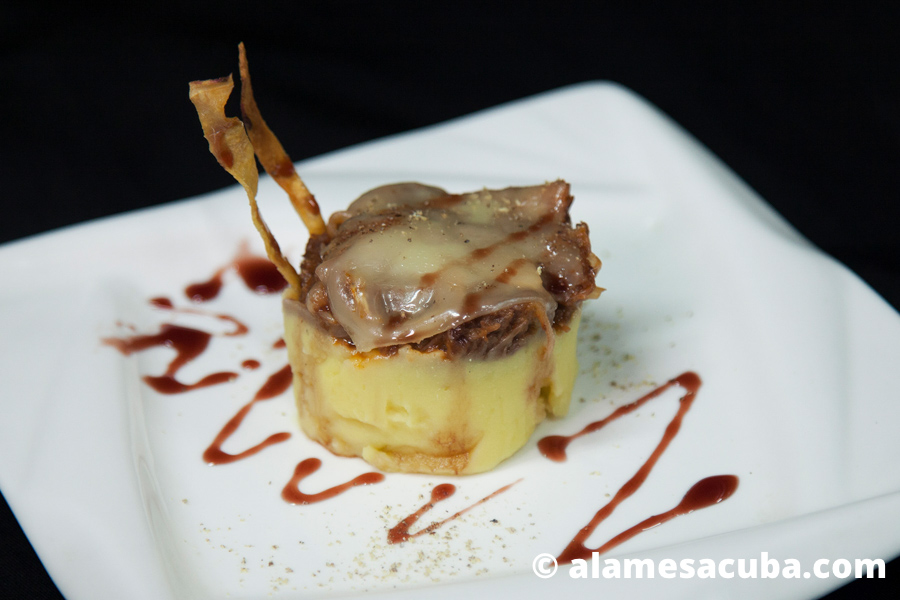 Aipirí in TATAGUA: Prado #115 e/ Refugio y Genios, Habana Vieja.
Lamb Ropa Vieja on a sweet potato base made with butter and evaporated milk. Decorated with a reduction of red wine, balsamic vinegar, honey and crunchy sweet potatoes, powdered with fresh black pepper. Cover with a sheet of gouda cheese.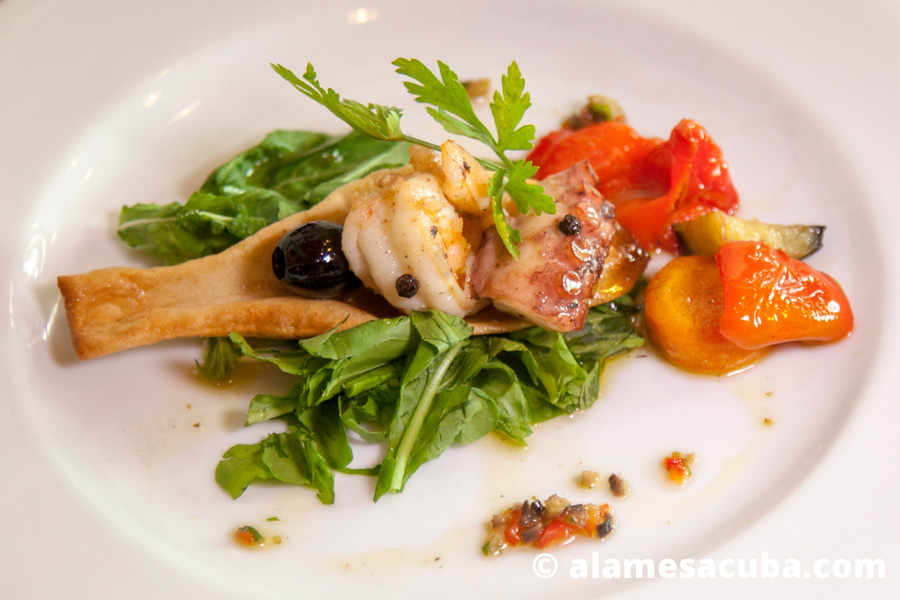 Escabeche 5 esquinas in 5 ESQUINAS TRATTORIA: Habana #104 esq. Cuarteles, Habana Vieja.
Marinated seafood with vegetables mounted on a focaccia with fine herbs.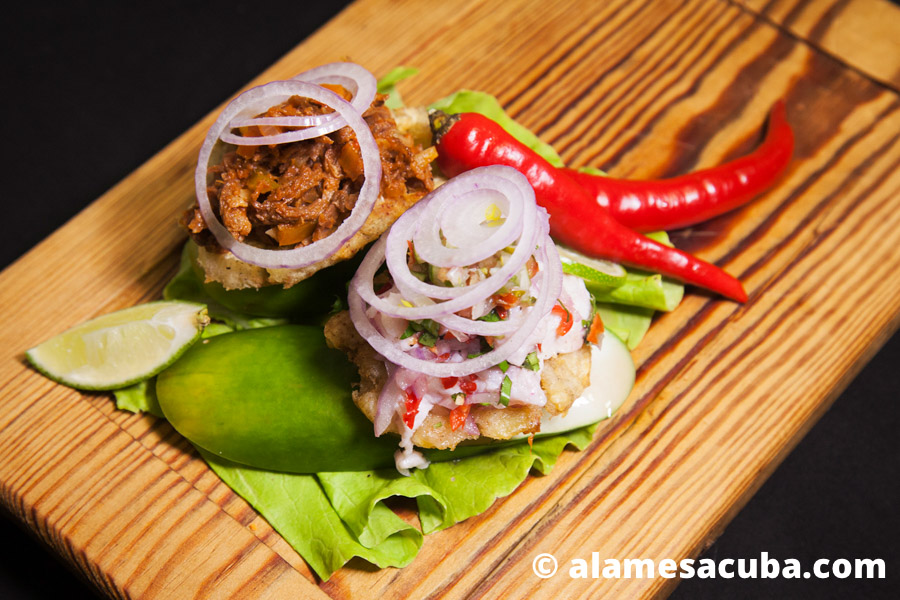 Bruschetta Criolla in CHACÓN 162: Chacón #162 esq. Callejón de Espada, Habana Vieja.
Two tostones, one with ceviche and pico de gallo and the other with beef Ropa Vieja.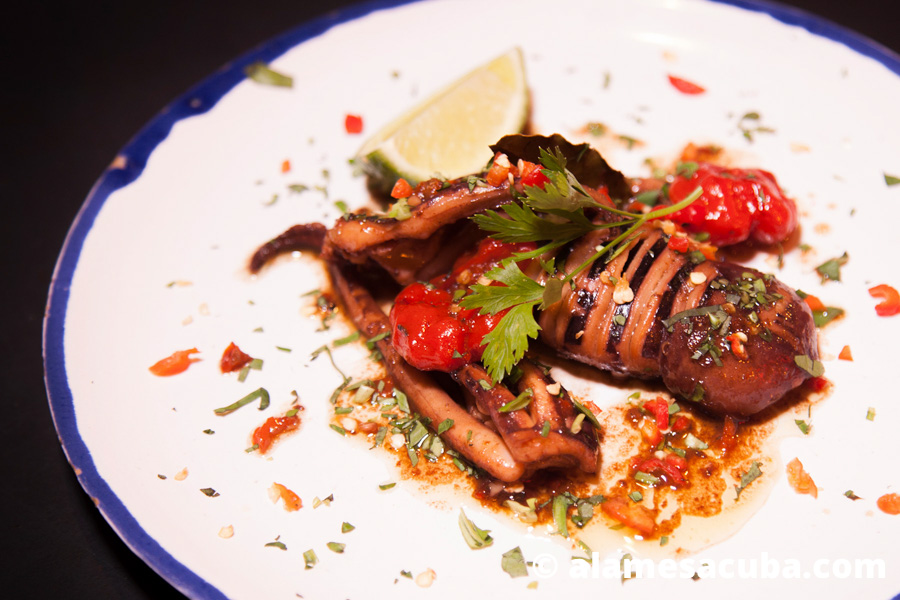 Calamar para "El Mundo" in MÁS HABANA: Habana #308 e/ San Juan de Dios y O'rreily, Habana Vieja.
Squid prepared with star ingredients of Cuban cuisine: ají cachucha and dry wine. The tapa is named after the latter (asks in Más Havana why).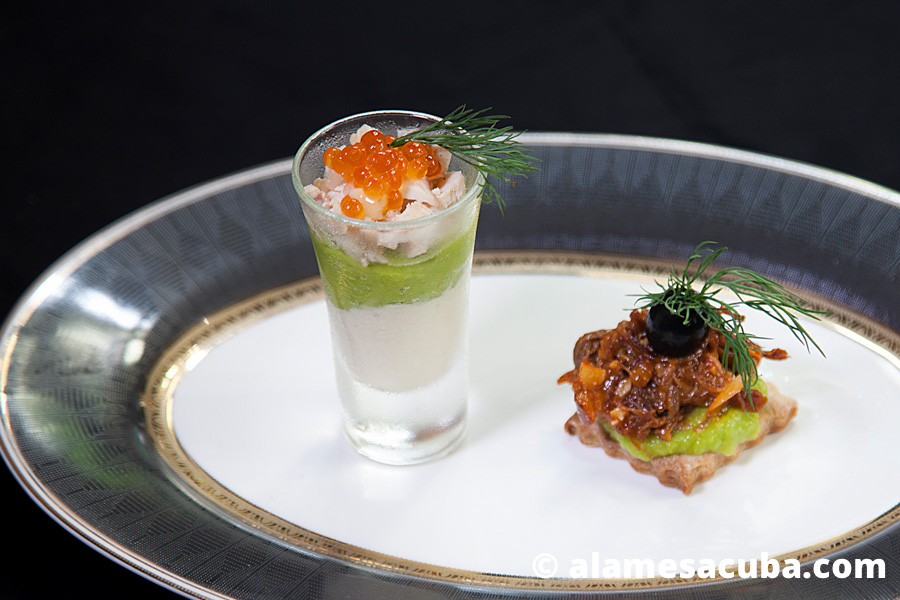 Chupito Habana-Moscú in TABARISH: O'Reilly #465 e/ Villegas y Aguacate, Habana Vieja.
Chupito with Smetana, guacamole, pickle and caviar, accompanied by a cookie of broken dough with guacamole, Ropa Vieja and black olives.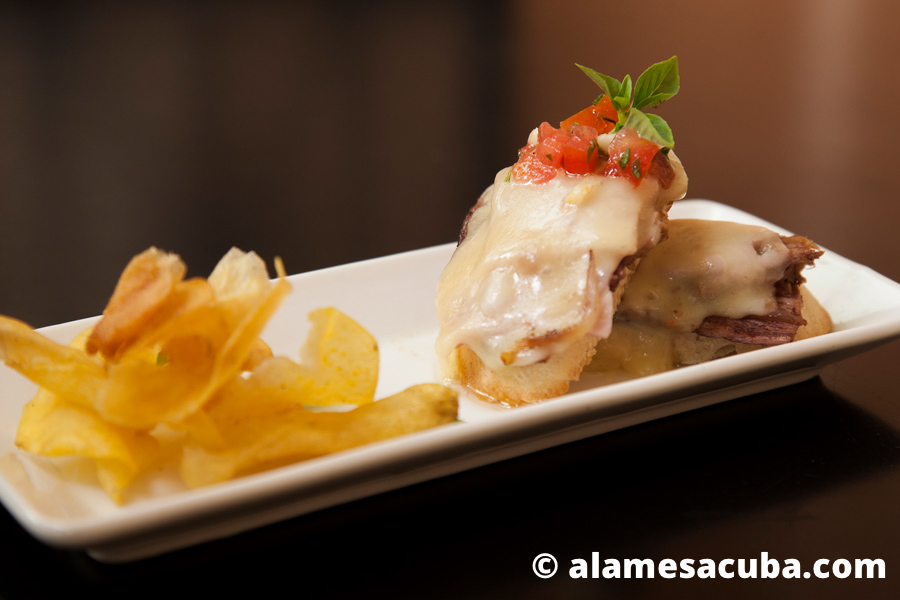 La Cubanita in ART PUB: Teniente Rey #306 e/ Aguacate y Compostela, Habana Vieja
Petit Cuban sandwich with the classic ingredients, roast pork, ham leg and gouda cheese sided by crispy sweet potato chips with basil.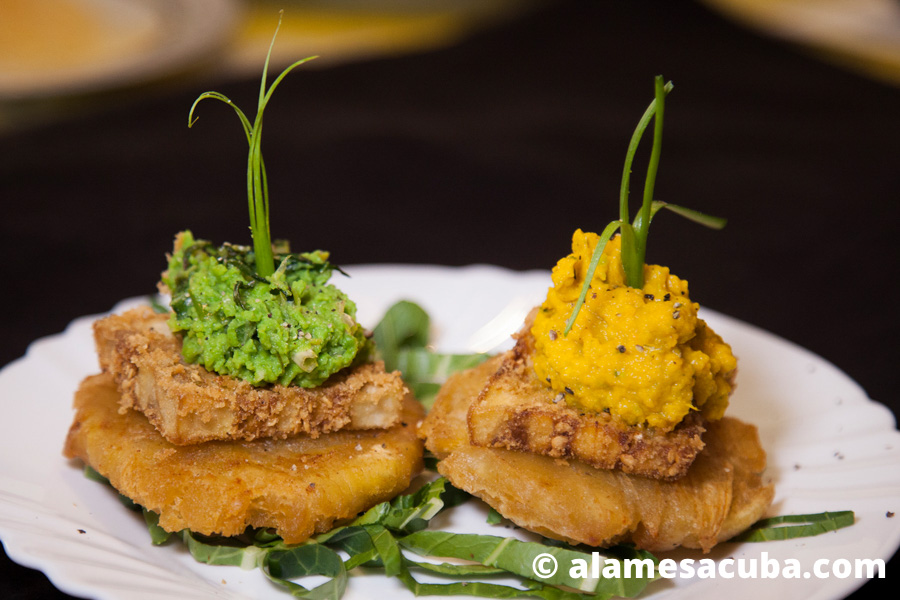 Tapa vegana in SHAMUSKIAO: Muralla #308 A e/ Habana y Compostela, Habana Vieja.
Two tostones with breaded eggplant, one accompanied by a cream of pumpkin and carrots and the other by a green peas cream.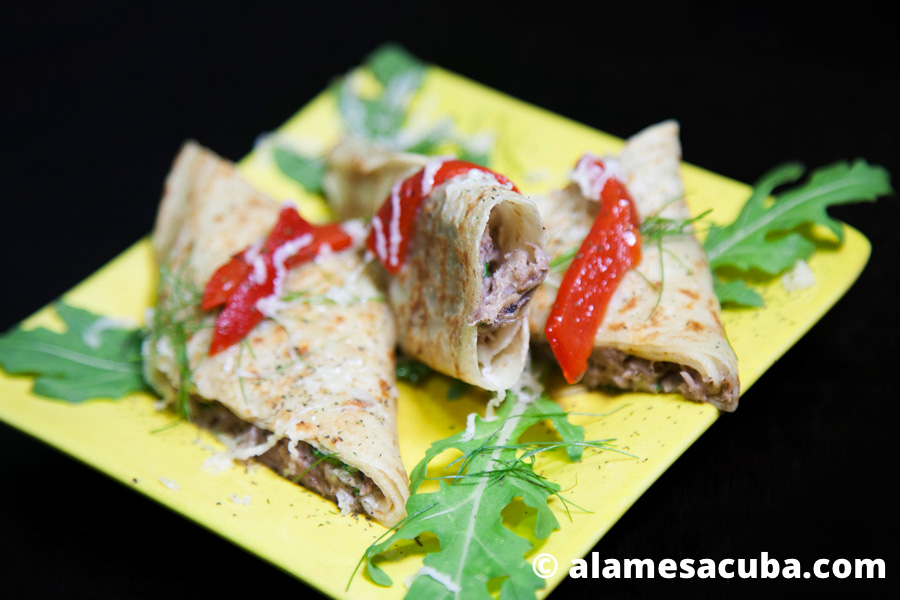 Tapa Campesina in CRÊPERIE OASIS NELVA: Muralla #314, e/ Habana y Compostela, Habana Vieja.
Blend the flavor of the crepes with the Cuban flavors of braised pork, arugula, pineapple and a secret ingredient that you will love to discover.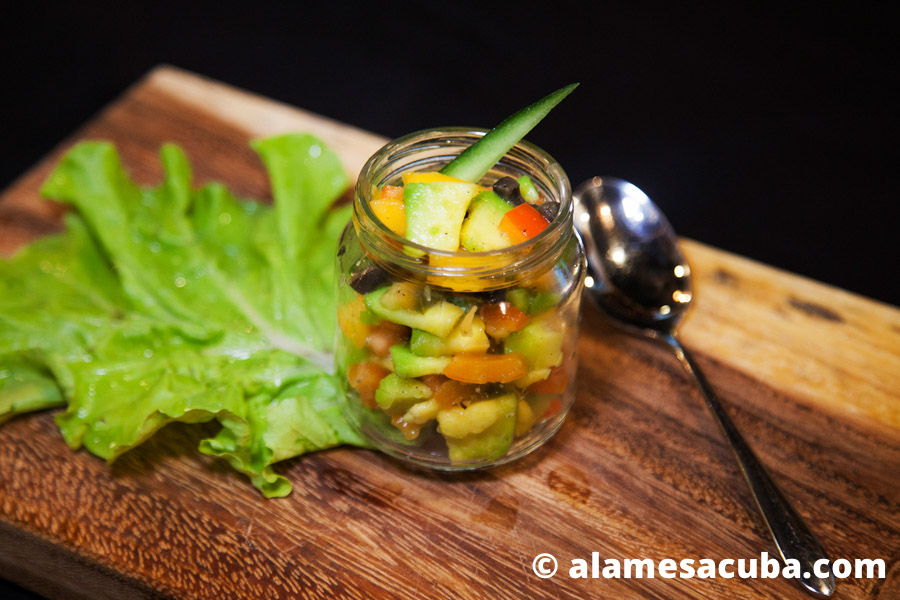 Verano Bohemia in CAFÉ BOHEMIA: San Ignacio #364 e/ Muralla y Teniente Rey (Plaza Vieja), Habana Vieja.
Fruit and vegetable salad. It contains mango, avocado, black olives and green peppers, decorated with cucumbers. Everything very fresh, nutritious and healthy.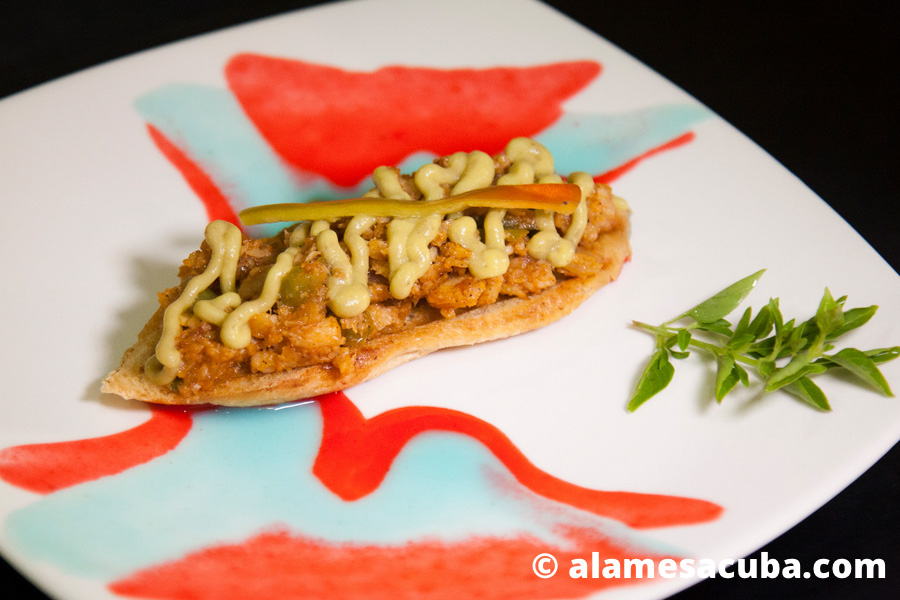 Tapa tropical in DON EDUARDO ALEGRE: Muralla #103 Apto 1 e/ San Ignacio e Inquisidor, Habana Vieja.
Bruschetta with fish enchilada covered with a mirror of guacamole sauce decorated with a cherry of pickled pepper.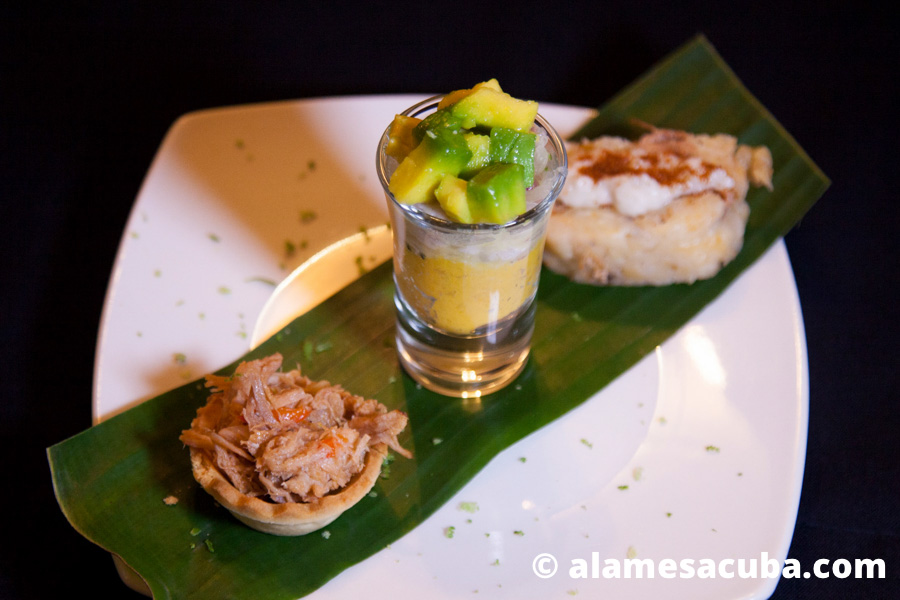 Otra Cuba in JÍBARO: Merced #69 e/ Cuba y San Ignacio, Habana Vieja.
Traditional bacán of the Eastern zone of Cuba, a basket with meat and vegetables typical of the western zone and a shot made up of a fish crude accompanied by cream of sweet potato and avocado dices.